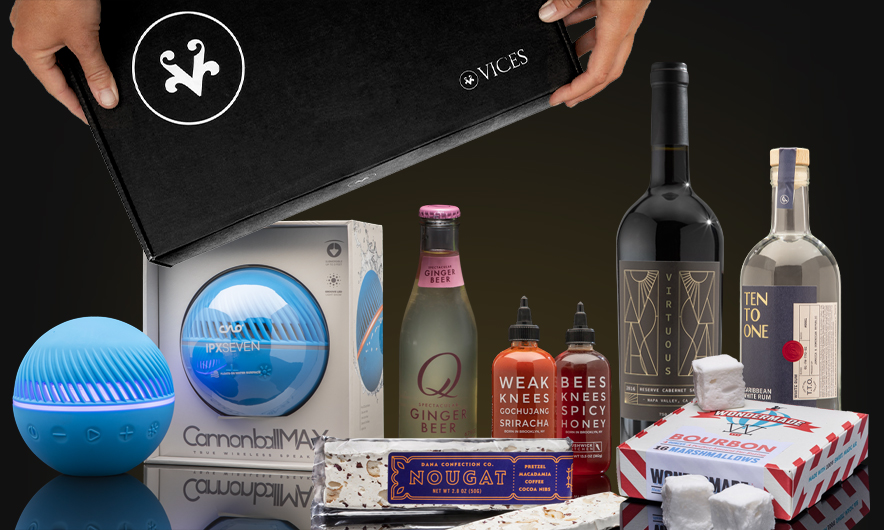 How It Works
You Apply

Choose a plan that's right for you, and set up an account with us

We Curate & Deliver

Each month, receive a box full of storied treasures on your doorstep––from fine wines to high-tech gear

Access Granted

Members get access to exclusive events and preferred pricing on luxury items at Vices Reserve.
Permission Granted
Apply Now
The Good Stuff, Delivered
Storied treasures in the way of fine wines, foods, toys, tools, spirits, accessories and tech items delivered to your door along with a book published to tell their story.
Monthly Boxes
Every month you will receive a delivery with a focus on the products and experiences that bring out the best in life.
Unique Items
Products are curated for the sophisticated consumer and connoisseur: fine spirits, handmade leather goods, high quality foods and other rare finds.
True Value
With respect to your leap of faith, we deliver products that greatly exceed the cost of each box.
View Past Editions
Associated Brands










Basic Monthly
One box per month, for as long as you like. Billed monthly.
3 Months
One box every month for 3 months. Billed quarterly.
6 Months
One box every month for 6 months. Billed semi-annually.
12 Months
One box every month for 12 months. Billed annually.
Please choose a membership.
Vices memberships automatically renew.
Tell us about yourself.
We'll ask for shipping details later.
Who's the lucky recipient?
Please choose a recipient.
Pick your first box!
Please choose your first box
Delivery Address
Vices is not available in AL, AK, HI, MS, ND and UT. We do not ship to P.O. Box addresses at this time.
3 Months
One box every month for 3 months. Billed quarterly.
$119.95/box
Flat Rate Shipping
$19.91/box
Sales Tax
$0.00
Total
$99.95
By placing this order and becoming a Vices Member, I agree to the and the following:
You'll be charged quarterly for a 3 Months membership.
You can cancel your renewal at any time prior to the renewal date.
People who have no vices, have very few virtues.

Abraham Lincoln
Explore an Evolution of Luxury Through Vices Reserve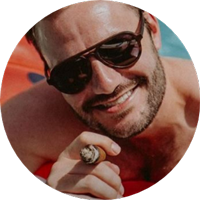 A letter from Vices Founder and CEO,
Daniel Curtis.
Welcome to the Vices membership, a journey designed for those with a profound appreciation for the authentic and unique.

This program delivers a curated selection of exceptional goods that promote those vices that bring out the best in us. Each delivery is meant to stimulate our curiosity, support artisans that keep authentic craft alive, bring us together in celebration, and support moments of thoughtful pause.

This membership is not for the masses. We are not for everyone.

Vices is for those who seek out rare and exciting experiences, dig for reason, welcome the surprise and live for the moments. This mindset unites us and forms the very foundation of our community.

With that, I invite you to join us on this journey of discovery.
Join the Mailing List
Want to receive updates, offers & promos about the subscription box?